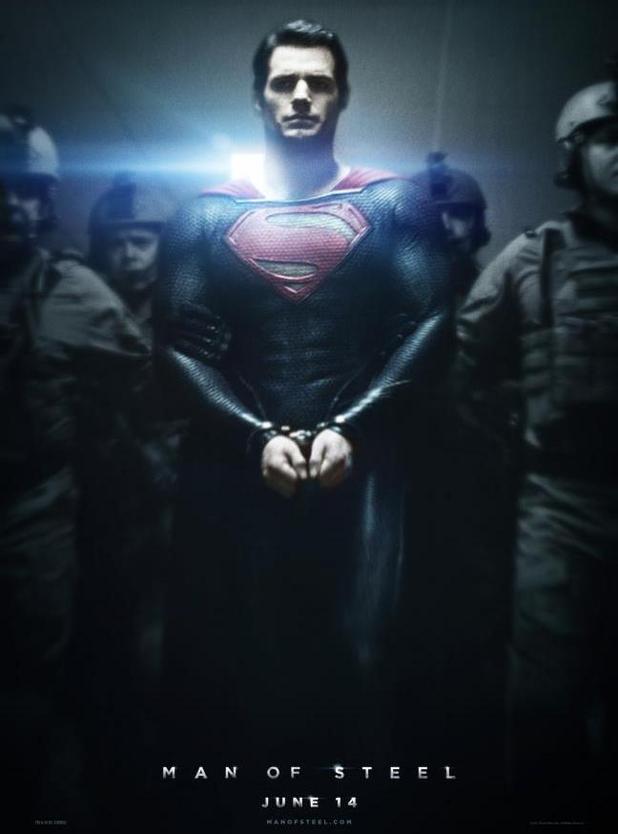 Check out the new Man Of Steel poster, plus here the latest gossip on this growing genre!
If there's one thing that 2012 has proved without a doubt, it's that the superhero film has become a genre unto its own right. Between
Avengers Assemble, Ghost Rider: Spirit Of Vengeance, The Amazing Spider-Man
and
The Dark Knight Rises
, it's been hard to know where to turn, so from now on all of the big news on this genre will be compiled into this frequent article slot. This week, we've got the brand new poster for
Man Of Steel
(left) ahead of its trailer's debut with
The Hobbit
next Thursday, plus a load of gossip on a variety of projects you won't want to miss...
WOLVERINE RETURNS- Supporting the rumours we had last week, Hugh Jackman today confirmed that he will indeed reprise his role as Wolverine for the eighth consecutive time in X-Men: Days Of Future Past. He and director Bryan Singer are now narrowing down the extent of his role given his appearance in The Wolverine next year, but expect it to be more substantial than his ace First Class cameo. Days Of Future Past lands in May 2014.
AMAZING SEQUEL GUEST STARS REVEALED- Meanwhile, director Marc Webb has today confirmed two new guest stars for The Amazing Spider-Man 2. First up, Jamie Foxx will play the central antagonist Electro in the follow-up, likely the character we saw in the backdrop of the original's post-credits scene. On top of that, Chronicle's Dane DeHaan will play Harry Osborn, the son of the man (Norman) who we know was suffering a terminal illness during the events of the Lizard encounter. Could the Green Goblin himself appear too? Don't bet on it- but don't be surprised if we see him in the trilogy's finale...
JUSTICE GETS A VILLAIN?- The dependable Latino Times have today revealed a report that's of real interest. It seems a villain has been picked for the upcoming Justice League film, and it'll be none other than Darkseid. For those of you who that name doesn't ring a bell, this god was the major villain in Smallville's final season, though his similarity to Thanos does seem to imply that this team-up will be aping Avengers 2 somewhat. Ah well!
For all the latest superhero movie news, keep it On-Screen this Christmas!