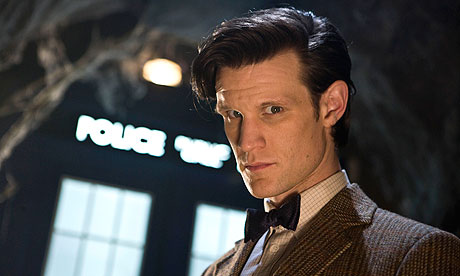 DOCTOR WHO 2013 EPISODE DETAILS REVEALED
With just thirteen days to go until the Doctor returns on Christmas,
Doctor Who Magazine
have today unveiled new details of what's coming for the show beyond its festive special. We've got a confirmed broadcast start for Series Seven Part Two in
April 2013
, which means the eight remaining episodes of the season will form the primetime slot for BBC1's Spring 2013 Saturday line-up. In DWM, executive producer Steven Moffat has provided a guide to what we can expect from those eight episodes, as well as teasers for what the 50th Anniversary Special will hold. Here's our round-up...
EPISODE 7 (APRIL 6TH)- This mid-season premiere adventure from the Moff is apparently something of an urban thriller, with the Doctor adopting a frock coat into his costume from now on.
EPISODE 8 (APRIL 13TH)- Neil Cross' first episode of his pair of the 2013 run is set on an "epic, overwhelming, boiling, red-orange planet" that's meant to prove the Doctor can find exotic locations to take his companions beyond mines and base-under-siege locales!
EPISODE 9 (APRIL 20TH)- Mark Gatiss' first episode of his pair of anniversary episodes will apparently help "explode fanboy hearts" with real twists on the series format and plenty of emotional moments to boot.
EPISODE 10 (APRIL 27TH)- This is Neil Cross' second episode, apparently sparked with elements of spookiness and romance for some classic Who.
JOURNEY TO THE CENTRE OF THE TARDIS (MAY 4TH)- Stephen Thompson's own solo anniversary Who episode features an in-depth look at the new TARDIS' insides and its vast infinite expanses. Obviously, much like Dinosaurs On A Spaceship, it'll do what it says on the tin in a BIG way!
EPISODE 12 (MAY 11TH)- Apparently Mark Gatiss' final episode of the run boasts a title to die for and some truly horrific and 'dreadful' events to look out for...
THE LAST CYBERMEN (MAY 18TH)- On top of the obvious return of the Cybermen into Doctor Who via Neil Gaiman, we can expect a 'spine-chiller' with something 'disgusting' that boasts Cyber assets yet is an innovative new addition to the race's lore.
SEASON SEVEN FINALE (MAY 25TH)- Here's what Steven Moffat had to say on his climactic episode of the new season: "One that will thrill you a bit, and worry you more. Yes, I think you'll be just a tiny bit worried where we might be going with this one. I'd say more, but then you'd be less worried, and frankly what's the point in that?" My guess is that Episode 14 will feature a climax to the Oswin-Clara arc in a big way, perhaps placing the Victorian companion in immense danger. Perhaps there'll be hints to the Fields of Trenzalore for the 50th Anniversary Special too? And speaking of that...
50TH ANNIVERSARY SPECIAL (NOVEMBER 23RD)- Naturally, Steven's keeping relatively quiet on what the Doctor Who 50th Anniversary Special holds in terms of narrative details. That said, he does promise "a love letter to the fans, and an absolute romp and thrill to the casual viewer", which sounds mighty exciting to us. Expect a host of live events and other big releases to mark the anniversary in style, but this along with likely a 2013 Christmas Special should ensure that the anniversary year bows out in incredible style!
Doctor Who returns with The Snowmen on Christmas Day on BBC1- catch the new trailer for the festive episode below...