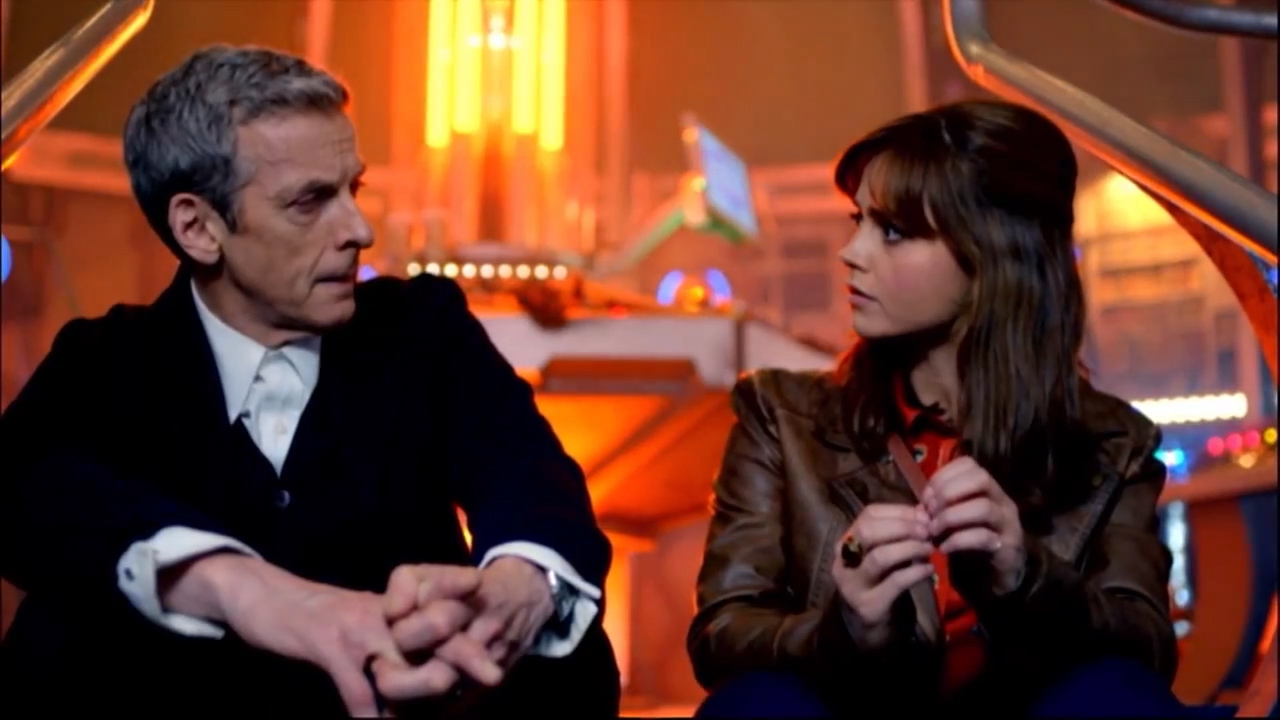 "Clara, be my pal, tell me - am I a good man?" The answer will be revealed on the big-screen!
BBC Worldwide have today announced a worldwide series of cinema screenings of the first episode of
Doctor Who
's explosive eighth season, while executive producer Steven Moffat has revealed new details on each of the episodes which comprise the show's impending run. Starring Peter Capaldi and Jenna Coleman, the new series picks up precisely where the 2013 Christmas Special, "The Time of the Doctor", left off, as the just-regenerated Twelfth Doctor and his companion Clara find themselves hurtling off-course in the TARDIS to an unknown destination in space and time (although that's admittedly the premise for just about every episode in
Doctor Who
's history!).
As dedicated Whovians can probably imagine, there's a lot of information to cover in this particular article, so without further ado, we'll kick off proceedings with details of the aforementioned big-screen conversion of "Deep Breath". In a similar vein to "The Day of the Doctor", the 75-minute season opener will be
shown in cinemas the world over at the same time as the BBC One broadcast (and international broadcasts in the days following August 23rd)
, although the precise list of theatres set to play host to the event has yet to be officially revealed. We'd hope that it would go without saying, though, that as soon as more news on
Doctor Who
's cinematic situation emerges, you'll find it in its accessible entirety right here at On-Screen.
Moving on, the Moff has evidently been an extremely busy man of late, providing a host of insightful teasers regarding what's to come in Season Eight for both SFX and Doctor Who Magazine. Read on below to discover exactly what the
Sherlock
and
Who
show-runner had to say on Capaldi's much-anticipated début tales:
"DEEP BREATH"

"It's a huge introductory show. What if your best friend was somebody else? It's really about Clara trying to cope with that - and whether or not she even likes who he is, mixed in with a truly terrifying monster." (SFX)

"INTO THE DALEK"

"We've done a really good Dalek one by saying they're nasty. It's actually quite a gritty Dalek adventure. We go without question into the most dangerous place in the universe - the last place the Doctor should be, and you will know that by the end of the pre-titles..." (SFX)
"Oh, it's a proper blockbuster, this episode. So many explosions that Peter Capaldi came in on his day off to watch the Daleks blowing up." (DWM)

"ROBOTS OF SHERWOOD"

"It's the Doctor meets Robin Hood. And it's about being a hero. The Doctor's going through a period of his life where he's worrying about whether he counts as a good man...It's very, very funny. Every single thing you want in a good Robin Hood is going to be there." (SFX)
"A glorious, heart-filling, action-packed romp, with a truly stellar guest performance from Tom Riley - it's like all of Summer in 45 minutes, with sword fights." (DWM)

"LISTEN"

"A complete departure for me in terms of writing Doctor Who. A tiny guest cast, no CGI. It's the story of a date and the Doctor having appears to be a mild nervous breakdown. [...] Essentially, it's downtime for the Doctor. But don't worry, it involves a monster." (SFX)

"TIME HEIST"

"It's like a heist movie done with Doctor Who. It's got a cracking monster in it, one of Neill Gorton's finest creations. And Keeley Hawes." (SFX)
"I think this episode has the best pre-titles of the lot." (DWM)

EPISODE 6

"An absolute hoot of an episode with some surprisingly serious bits in it. If you did know somebody like the Doctor, and you did think it was okay to slip away with him, what effect would that have on your life? What would that do to the people around you? I sit and watch this one to cheer myself up." (SFX)
"We thought it would be fun to try something similar [to "The Lodger", also written by this episode's scribe, Gareth Roberts]. Not that similar, mind - but character-driven, funny, with our hero bumping against the real world. Plus a cool robot, obviously. This episode also has the best pre-titles ever." (DWM)

EPISODE 7

"Proper drama. [...] It's probably quite a big statement of where we are now with the show. [...] It's very strong. And there's a callback to a past episode. Sort of. You'll see." (SFX)
"This is Doctor Who at its most intense and dramatic, with scares and huge ideas, and probably my single favourite scene in the whole run this year. It's the final scene, between Clara and the Doctor, in the TARDIS, if you're wondering - you won't miss it, trust me. Thrilling stuff. Peter [Harness, the writer of Episode 7] is about to remind you that the Doctor isn't a hero every day - brace yourselves." (DWM)

"MUMMY ON THE ORIENT EXPRESS"

"Brilliant script. Brilliant idea for a monster. It looks stunning, in a very glamorous way. And it has Foxes singing. There's a callback to something from Matt's first series. Sometimes, I play a long game. And sometimes I just think "We never actually tied that off...shall we just go and sort that now?" [...] I like the idea that the Doctor takes that long. "Yes, I'll be there in a moment!" Several years later..." (SFX)
"Jamie [Mathieson] has written two barn-storming, brilliant episodes this year."

"FLATLINE"

"It's a horror story. It starts off with a very cute idea and becomes really quite frightening by the end. [...] A proper scary one, with one of our best ever sight gags in it." (SFX)

"CHILD'S PLAY"

"It's a beautiful script: it's really lyrical and poetic, and boldly so. A fairytale, but not in the sense that I've tended to write a fairytale. Heartfelt, eloquent, quite, quite different. The main visual idea of it is so clever. I think it's going to be a stunner." (SFX)
"Frank [Cottrell Boyce, the man behind the sensational script for the London 2012 Olympics Opening Ceremony]'s writing is so lyrical, visual and imaginative. [...] A new voice for the show, a new approach. Just when you think there are no new Doctor Who stories, along comes this." (DWM)

EPISODES 11 & 12

"The finale. Quite a strong emotional story to this. It's about Clara and the Doctor and the fact that the way they interact might not be healthy for everyone around them. That sounds very bleak, but don't worry, there's lots of nonsense in it too. It's high-octane action adventure, with Cybermen. And some proper UNIT stuff." (SFX)
Doctor Who will return in cinemas worldwide and on BBC One with its ambitious season opener, "Deep Breath", on August 23rd.