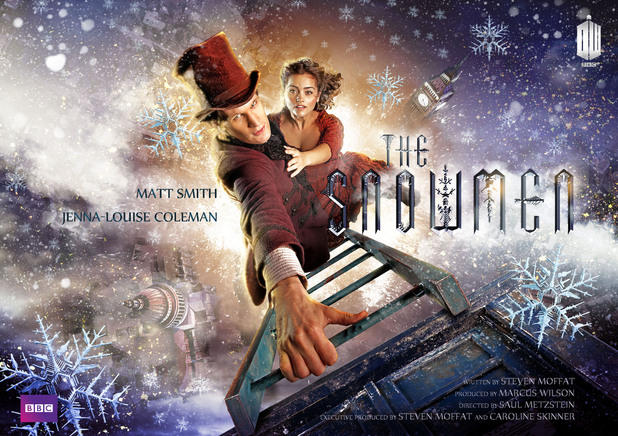 Posters, synopses and clips for this year's Special!
We're edging ever closer to new
Doctor Who
now, with less than a month until the big day arrives for a brand new hour-long special starring Matt Smith and new companion actress Jenna-Louise Coleman. Following the wave of publicity that came at Children In Need, we've now got the shiny new poster you see here, a synopsis for the episode and a BBC Christmas trailer featuring new footage for
The Snowmen
.
Here's the plot brief: "Christmas Eve 1892 and the falling snow is the stuff of fairy-tales. When the fairy-tale becomes a nightmare and a chilling menace threatens Earth, an unorthodox young governess, Clara, calls on the Doctor for help. But the Doctor is in mourning, reclusive and determined not to engage in the problems of the universe. As old friends return, will the Doctor really abandon humankind or he will fight to save the world- and Christmas- from the icy clutches of the mysterious menace?"
It's sounding like an exciting set-up, and we've been promised the first hints in the episode as to how Jenna-Louise's Clara connects to her earlier portrayal of Oswin in
Asylum Of The Daleks
- could she be a woman fragmented across time, and if so, what caused her breaking? Check out the Beeb's trailer below.
Doctor Who
returns on Christmas Day on BBC1 at 7pm.