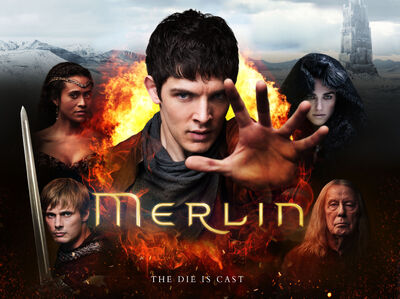 The end is coming for Merlin on BBC1, but is there a light at the end of the tunnel?
We got the sad news earlier today that
Merlin
will reach its climax as a show at the culmination of this season in December. Now, we've got further thoughts on the 'axe' from the writers and stars of the programme, as well as minor ruminations of where the universe and production team may take the storyline in future in other mediums. Here's the full round-up...
BBC CONTROLLER DANNY COHEN ON THE AXE: "Merlin's mix of magic, adventure and humour quickly became a hit with BBC One audiences and has continued to thrill families over the last few years on Saturday nights. On behalf of BBC One I would like to thank Shine and all those involved in the making of the show. I hope fans will tune into the spectacularly dramatic final episodes, and we have ambitious plans for new drama in the Saturday evening slot in 2013."
COLIN MORGAN (MERLIN) ON THE AXE: "From the beginning this was always going to be a five-year journey that we embarked on and I think the show has run its natural course. The show has grown and grown each year and we've now arrived at its strongest point and we've achieved what we wanted to do...I know this is goodbye, but thank you for being there for the journey!"
BRADLEY JAMES (ARTHUR) ON THE AXE: "The Merlin years have provided me with fond memories great experiences and beloved friends- my words won't do justice to the honour of being King Arthur so I shall just say that it has been an exceptional one and that knowing the show has been a part of so many lives, has been humbling."
KATE MCGRATH (MORGANA) ON THE AXE: "I have always said the success of the show has stemmed from our audience being able to relate to the characters on different levels...it's a story about acceptance and growing up. The breathtaking finale of the series leaves you with no doubt that characters have been on their journeys and had their stories told; it's completely the right time to draw our telling of the story to a close."
JULIAN MURPHY ON THE MERLIN MOVIES: "There is definitely ongoing talk and work on a movie, that's true. Will it to some extent be a reboot? Yes, inevitably- any movie would be. But will it be with the same or different actors? It's miles too early to tell."
We'll keep you posted on Merlin's finale and the details of its saga's continuation in other mediums during the weeks ahead...