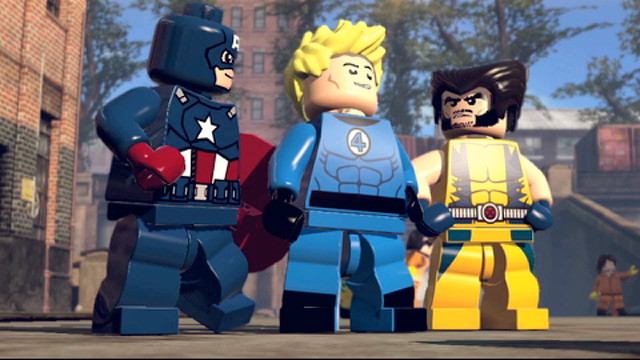 Minifigures, assemble! November's second full week offers up another impressive range of entertainment releases.
What should quickly become apparent this month is that things are only going to keep on ramping up as the weeks progress. That fact is more than correct with regards to the second week in, which, it has to be said, contains some genuine corkers for entertainment fans to look out before its end.
Ready to hear what those entail? Okay, then. Here's our round-up of all of the hottest entertainment releases launching in the next seven days:
THE HOBBIT: AN UNEXPECTED JOURNEY EXTENDED EDITION-
We're just a month away from the worldwide release of
The Hobbit: The Desolation of Smaug
, which means it's high time for another look at its predecessor.
An Unexpected Journey
's extended cut boasts more time in Hobbiton, Rivendell and the Goblin Caves, adding an additional 13 minutes of footage in order to produce an overall upgraded running time of 182 minutes. Tolkein fans, take heed- with 9 hours of extras on top of the bumper-sized film, this is the ultimate edition of
The Hobbit
's first chapters.
(Monday 10th)
ARROW: LEAGUE OF ASSASSINS-
As Season Two of
Arrow
continues, more secrets will be revealed on the Black Canary's mysterious past. Just what is the enigmatic heroine's connection to the League of Assassins? As we flash between Oliver's time on the island and his modern day exploits, the answer will unveil itself over time this week. Plus, get ready to discover more on the implications of Brother Blood's plot arc...
(Monday 10th, Sky1)
BIOSHOCK INFINITE: BURIAL AT SEA PART 1-
This audacious DLC campaign expands the events of
BioShock Infinite
in a retrospective throwback to the world of Rapture.
Burial At Sea
sees Booker hired by the shady Elizabeth to find a lost girl in the city, a mission which leads him into a devilish conspiracy, and one which could set in motion the very fall of rapture: this is an expansion pack which you can't afford to miss!
(Tuesday 12th)
THE SCIENCE OF DOCTOR WHO-
Doctor Who
's 50th Anniversary is shifting fully into gear starting this week.
The Science of Doctor Who
is an initial celebratory lecture programme helmed by Brian Cox that speculates upon the reality of such concepts as time travel and extraterresterial life. BBC Two have
plenty
more great
Who
content to come in the next two weeks, but as debuts go, this is one hell of a kick-starter that I can already confirm deserves any fan's time.
(Thursday 14th)
LEGO MARVEL SUPERHEROES-
The final major current-generation video game title of 2013,
LEGO Marvel Superheroes
is assembling in stores this week. TT Games and Marvel Studios have been hard at work rendering a LEGO-themed version of New York with various superhero teams in order to provide series veterans with the ultimate filmic experience on Xbox 360, PlayStation 3, WiiU and many more consoles. This particular instalment will be available on Xbox One and PlayStation 4 too, but for now, keep it current-generation to give your hardware the proper send-off...
(Friday 15th)
CHILDREN IN NEED 2013-
Sure, Terry Wogan does his best to sap all potential comic relief from it, but all the same, the
Children In Need
live show is one of the BBC's most justly popular live events. This year's programme features the first clip of the
Doctor Who
50th Anniversary Special, a
Call The Midwife
sketch and performances from One Direction and Harry Hill, so to use an old cliche, there's something for everyone!
(Friday 15th)
DOCTOR WHO: GREATEST MONSTERS AND VILLAINS WEEKEND-
Another
Who
celebration broadcast, this time from BBC Three. Fans voted, and now it's time to discover (in order) the Top 10
Doctor Who
monsters and villains of all time. Who will win- the Daleks, the Silence, or the Kandyman? Perhaps the last one is wishful thinking, yet it should be a genuinely thrilling weekend-long event for
Who
veterans everywhere.
(Friday 15th, Saturday 16th & Sunday 17th)
AND THERE'S MORE-
The Great Gatsby
's 2013 adaptation from the great Baz Luhrmman lands in DVD and Blu-Ray retailers
tomorrow
, as does Disney Pixar's latest effort,
Monsters' University
!
AND NEXT WEEK...
It's time-
Doctor Who: The Day of the Doctor
has arrived! But that's by no menas all- the Xbox One,
The Hunger Games: Catching Fire, An Adventure In Space And Time, Super Mario 3D World, Dead Rising 3, Forza Motorsport 5, The Legend of Zelda: A Link Between Worlds
and so many more releases première in what could be 2013's most anticipated week by far!