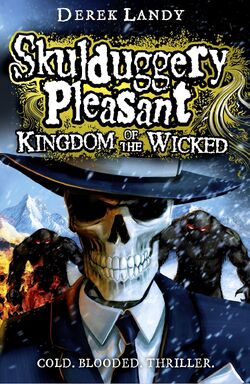 Our first look at the latest adventure from Derek Landy!
For fans, it may well feel as if the wait since
Skulduggery Pleasant: Death-Bringer
has been close to unbearable. The sixth novel in the series wrapped up its second trilogy magnificently, as Skulduggery clashed with his evil alter-ego Lord Vile and Valkyrie was forced to confront her own personal demons of powers yet to come in order to stop Vile returning to the Earth. Derek Landy
gave us a neat World Book Day side-story,
The End Of The World
, to start to sate our appetites for the fantasy book franchise for a while back in March, but it can only take a fully-fledged new sequel to really make the wait worthwhile. Enter
Kingdom Of The Wicked
, the huge seventh novel that deals with the reprecussions of its predecessor while also introducing the new trilogy's story arc as an all-out war between mortals and immortals begins to rage across the planet and only Skulduggery and Valkyrie stand a chance of stopping it! You can see here the full, beautiful cover for the new adventure;
Skulduggery Pleasant: Kingdom Of The Wicked
heads to all good book and eBook retailers on August 30th.