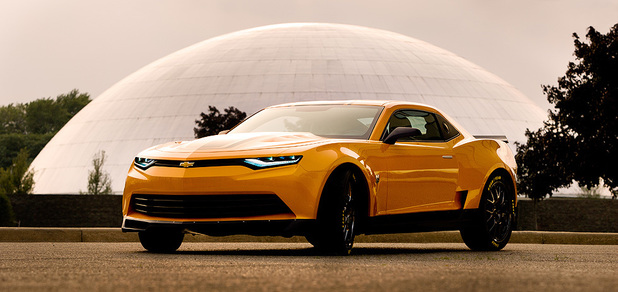 Michael Bay provides a glimpse of what we can expect in next year's thrilling sequel.
Michael Bay has today unveiled the first look at
Transformers 4
with a promotional image of the new look for classic Transformer Bumblebee. Bumblebee was one of the central robot characters in each instalment of the original trilogy from Paramount-
Transformers, Transformers: Revenge of the Fallen
and
Transformers: Dark of the Moon
- and will appear as one of the returning defenders of Earth in next year's fourth film.
Right now, the narrative of
Transformers 4
is up in the air due to the lack of filming photos or footage at present. What we do know for certain is that Sam Witwicky, Mikaela Banes and Carly Spencer won't feature as human characters amongst the roster for this semi-reboot, yet that it will take place after the events of
Dark of the Moon
in order to achieve a sense of franchise continuity for the viewer. The Bumblebee image is of a 2014 Concept Camero, looking rather attractive if we do say so ourselves!
Transformers 4
assimilates into cinemas worldwide on June 27th, 2014.