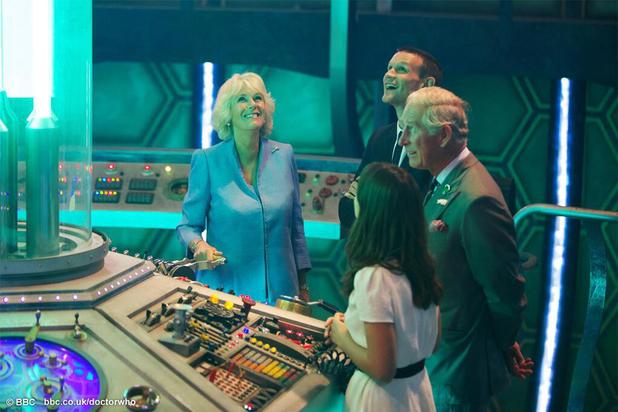 "Where does one wanna start?" The Royals visit the set of Doctor Who as part of a BBC Cymru Wales tour today.
BBC Wales have today released a new video of Prince Charles and Camilla, Duchess of Cornwall, visiting the BBC Cymru Wales studio and experiencing its
Doctor Who
filming elements. This mini-tour included a visit to the 'base' of the Daleks in order for Charles to try out their voice modulators, then the latest incarnation of the TARDIS console room complete with rotating time rotors and flashing roundels!
The tour comes as a result of BBC Wales' recent move to Roath Locke with their various studios and shows,
Doctor Who
included in the midst of its 50th Anniversary year. Speaking to Charles and Camilla, actress Jenna Coleman confirmed that the upcoming 50th Anniversary Special "finished about two months ago" in terms of its filming and features "three different Doctors playing against each other", with "John Hurt, David Tennant and Matt" in a war of wits and talents in the much-anticipated celebratory adventure.
Doctor Who
returns with its blockbuster 50th Anniversary Special on BBC One on November 23rd.