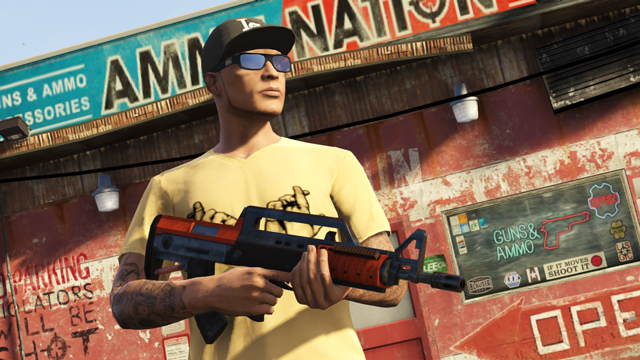 Prepare to enter extravagant territory with the latest update to GTA V's monolithic multiplayer component.
Rockstar Games have this week announced the release date of the latest downloadable content update for their critically acclaimed third-person-shooter open-world video game
Grand Theft Auto V
. Titled "High Life", the DLC will bring a range of new weapons, vehicle and properties to the title's multiplayer campaign (which goes by the name
Grand Theft Auto Online
) ahead of an additional much-anticipated update which will introduce full-blown Heists into the mix.
We'll provide you with a more extensive verdict on
Online
later this year once Heists have been introduced, but for now, here's the full list of additional items set to feature in the promising inventory rehaul next week:
REAL ESTATE: Eclipse Towers, Richards Majestic and three other TBA properties (bumper-sized apartments will also be available for purchase in the Online version of Los Santos).
VEHICLES: The Enus Huntley S (SUV), the Dwebauchee Massacro (Sports), Pegassi Zentorno (Super) and Dinka Thrust (Motorcycle) will be made available next week and can be accessed from any garage in the single-player campaign as well.
WEAPONS: There's just one addition in this department- the Bullpup Rifle will be in stock at Ammu-Nation along with a series of scope, suppressor and tint modification options.
AND THE REST: On top of all of those items, you can expect 15 new missions (or 'Jobs', as they're called online), more clothing items, different vehicle horns and a range of celebratory animations for your on-screen avatars.
Grand Theft Auto Online: High Life will be uploaded to PlayStation Network and Xbox Live this Tuesday, May 13th.