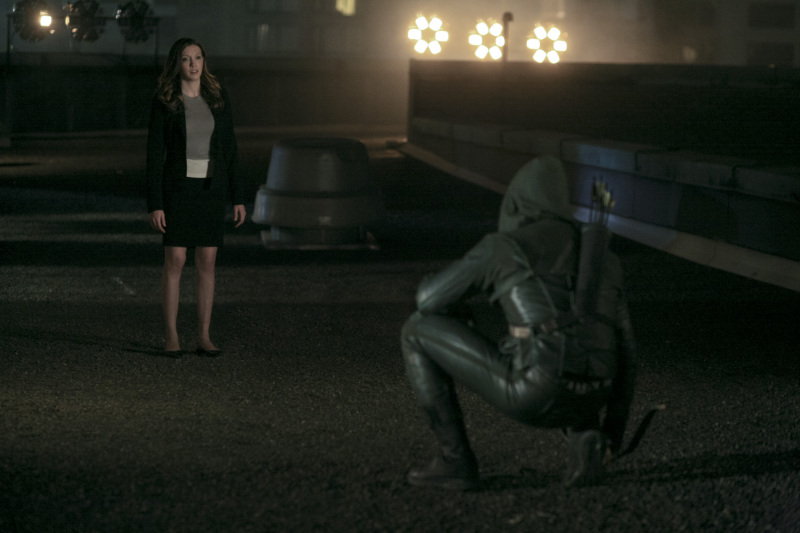 Catch up with our definitive verdicts on all of the latest episodes of Arrow and Marvel's Agents of S.H.I.E.L.D.!
It has been a fair while now since we last laid down the law and slapped a rating on an episode of either
Arrow
or
Marvel's Agents of S.H.I.E.L.D.
. To kill two birds with one arrow, then, so to speak, today we'll be rounding up our miniature-but-informative verdicts on the pair of superhero shows' recently televised instalments.
In the case of
Arrow
, you'll find below our reviews of Episodes 15-20 (
The Promise; Suicide Squad; Birds of Prey; Deathstroke; The Man Under The Hood
and
Seeing Red
) and in the case of
Agents
, prepare to learn our verdicts on Episodes 15-17 (
Yes Men; End of the Beginning
and
Turn, Turn, Turn
)...
ARROW
THE PROMISE (4/5)- Shortly before its broadcast, producers Greg Berlanti and Marc Guggenheim called The Promise the biggest episode of Arrow yet and, from an aesthetic perspective at least, it's not hard to see why. Like Season One's The Odyssey before it, at least three-quarters of Episode 15's action is set on the mysterious island where Oliver was shipwrecked for half a decade, yet despite the sheer ambition present in director Glen Winter's composition of several of the action setpieces that take place on a seabound freighter, the vast majority of those visceral confrontations tend to pale in comparison to Captain America: The Winter Soldier, particularly given that Marvel Studios' immensely satisfying political thriller launched in the UK in such close proximity to this instalment's première. Had events developed to such a rapid extent in The Promise's present-day sequences as they did in the flashbacks, we might have remembered its narrative as being more than the sum of its parts, but the end result is something more akin to Avatar, wherein the (here ultimately underwhelming) special effects take precedence to the staggered core storyline's detriment.
SUICIDE SQUAD (4/5)- Even if this marvellous romp of an episode had consisted solely of Tara Strong's hilarious and totally unexpected cameo as a deranged female prisoner (read: Harley Quinn!), we would have been more than happy to slap a solid 3* score on it there and then. Thankfully, Suicide Squad managed to offer plenty more than that inspired DC allusion over the course of its running time even in spite of its relatively inconsequential (at least in terms of the central Season Two plot arc) standalone narrative. Michael Rowe in particular shines once again (more than ever before, in fact) as the ever-charming Floyd Lawton, aka Deadshot, whose allegiances and sense of duty were tested by his new-found recruitment into the ranks of Amanda Waller's aptly-named Suicide Squad. If it's a vastly different take on the team of anti-heroes to Smallville which The CW are going for here, then they're most certainly heading in the correct direction, and even if Deathstroke's cameo at the climax of the episode couldn't have felt less natural if the writing team had tried, there was so much to love here that it's almost churlish to complain about such minor niggles.
BIRDS OF PREY (3/5)- Introducing Jessica De Gouw's vengeful Huntress back into the fold was always going to be a risky move for the Arrow production team, not least since her portrayal of the once-beloved DC character was one of the more criticised elements of the show's formative initial run. Nevertheless, despite the fact that De Gouw struggles to shine to any greater extent in Birds of Prey, the return of her incarnation of the Huntress does at least set a few narrative threads in motion which could well pay dividends for the series either in this season or the next. Most significant of all was scribe A.C. Bradley's contemplation of the implications that the Black Canary's time spent with the League of Assassins whilst separated from Oliver would have upon her present-day actions, and indeed, come Seeing Red it's impossible to miss the knock-on effect those events have had on the character and her day-to-day alter-ego. Sara Lance's moral compass has evidently been changed forever with "the Devil", as she later brands Ra's in Episode 20, and not necessarily for the better in terms of helping Starling City get back up onto its feet post-Undertaking. If only the casting managers could have selected a superior candidate to take on the role of the Huntress, perhaps Birds of Prey would have turned out to be another winner for the show, but even so, the groundwork which is laid here for future instalments almost justifies the severe drop in quality to near-mediocrity.

DEATHSTROKE (5/5)-

After a fortnight's worth of what essentially amounted to filler content, our patience was repaid in full by this utterly stunning mid-season finale. Deathstroke kicks itself into high gear from the outset as Slade moves to kidnap Thea and in doing so gradually commence his campaign of tearing Oliver's world apart piece by piece, and though you might wonder how it's possible with five episodes still to go before the season wraps up, the entire episode refuses to let up until the credits roll. From Thea's discovery of her true parentage to Roy's departure from Starling to Isabelle's emergence as an ally of Slade to Laurel's inevitable yet cunningly timed realization (with a little help from Deathstroke) of Oliver's superhero alter-ego, we lost count of the number of pivotal sequences here which will without a doubt shape the course of the remainder of this season and beyond. Throw in more than a few sublime high-octane setpieces involving the Arrow and the Black Canary's first heated confrontations with Slade since his return from the dead, and you've got yourself quite possibly the best episode of Arrow since the show's inception. In other words? More, please!
THE MAN UNDER THE HOOD (4/5)- Few contemporary dramas could follow up on such an incredible singular instalment with another gem that comes close to matching its predecessor, but if it hadn't already become obvious by now, Arrow isn't like most other dramas out there today. Starting up with yet another remarkably explosive setpiece (which even throws in a neat callback to Time of Death in due course), The Man Under The Hood may not throw quite as many game-changing revelations into the mix as Deathstoke, but it sure does do its best to hold the fort from a revelatory and emotional perspective throughout. The sense that Episode 19's central purpose is to stall for time and gradually further specific strands of this year's multi-tiered story arc is fairly pervasive, naturally, yet that it does so in such a manner that watching it feels like nothing short of a pleasure is telling of Arrow's enduring power to sustain its viewership's interest regardless of the structure of its seasons.
SEEING RED (5/5)- If the titles of this week's chapter and next week's City of Blood are anything to go by, Berlanti and co are utilizing this fortnight to deal with some of the lingering elements of Season Two which either need to contribute to its finale in a meaningful way or be swept under its rug so as not to detract attention from Unthinkable's (probably) show-altering narrative in three weeks' time. First up on the roster is Roy, a character who has necessarily played second fiddle in the second half of Season Two as Olly has dedicated the vast majority of his time to discovering Slade's plans and finding a way to stop his most powerful foe yet. Thankfully, the uncharacteristically mute Colton Haynes receives fine justice in Seeing Red, which is saying something, as the episode has more than its fair share of emotional baggage and revelations to tackle (each of which are executed perfectly on-screen, we might add) even without the resurgence of a now-unwavering Roy on the streets of Starling City. Given that the episode has yet to air on Sky1, we shan't spoil precisely what transpires here, but suffice to say that Oliver Queen's life will never quite be the same again (for several reasons, in fact) once the credits have rolled this time around, and though such phrases are often tossed about with regards to US TV dramas and their shock moments, you're in for a Red Wedding-level surprise in Episode 20...
MARVEL'S AGENTS OF S.H.I.E.L.D.
YES MEN (4/5)- More than any of its predecessors, it seems fair to assert of Yes Men that it represents the calm before Marvel's Agents of S.H.I.E.L.D.'s oncoming storm. We sincerely hope that any future US dramas take heed of how the show handles this quiet period, however, since against all of the odds, Episode 15 still turned out to be one of the show's best outings so far. Unlike The Well, which did such a lousy job at reacting to Thor: The Dark World that it was barely worthy of a puny god, let alone the Nine Realms and their Asgardian protectors, this instalment integrates Sif (one of Thor's Warriors Three accomplices) seamlessly into the world of S.H.I.E.L.D., with Jaime Alexander's returning superheroine striking a fine dynamic with Clark Gregg's Agent Coulson amidst the frantic events of the mission-of-the-week. What really separates this one from the rest of Season One's pre-Captain America: The Winter Soldier output, however, is the inclusion of Elena Satine's Lorelei, a truly cold-hearted and manipulative antagonist whose inert charm is something which has been severely lacking in the case of the show's previous villains. If Agents is to survive for a second season (and the odds are looking increasingly in its favour on that front), then it sorely needs to bring Satine back into the fold and create a few more memorable characters along those lines to do so.
END OF THE BEGINNING (4/5)- Deathlok! The Clairvoyant! May's loyalties revealed! S.H.I.E.L.D. conspiracies! End of the Beginning does not hold back in the slightest when it comes to fulfilling many of the promises made by Agents' execs in the early stages of Season One, and although it's clearly the first entry in a two-part tale which threatens (thank goodness) to shake up the show's format entirely, the instantaneous knowledge of this set-up doesn't do anything to detract from its overall impact upon the viewer. Quite to the contrary, End's events will no doubt leave any seasoned fan of the Avengers franchise on the edge of their seats, desperate to know more on what's to come once the credits have rolled, an attribute which we wholeheartedly wish we could have seen in the crucial initial episodes of the run, especially since it seems as if plenty of long-term Marvel fans have jumped ship to Arrow and other dramas at this stage. By the very nature of its purpose within the context of the wider season structure, the only department in which Episode 16 comes up lacking is that of closure and the sense of a (here absent) satisfying standalone narrative, yet as you'll see from our next review, these shortcomings were tossed out of the Helicarrier one week later!

TURN, TURN, TURN (5/5)-

What a difference one film can make- any doubts that The Winter Soldier's franchise-shifting conclusion would have a dramatic effect on Agents' status quo were virtually dispelled from the get-go in Turn, Turn, Turn, an episode which was nothing short of game-changing (in every sense of the word) and which marked a monumental peak for Season One overall. The phrase "Hail Hydra" is perhaps the best means by which we can begin to summarize the colossal impact that this week's storyline will inevitably have upon the remainder of the season's instalments, not least since several regular cast members and recurring guest stars were revealed to have been working for the antagonistic organization all along. Quite what ramifications these revelations will have for the remaining Agents of the now-defunct S.H.I.E.L.D. remains to be seen (we know these things, of course, but once again, we'll keep them under wraps so as to allow the events to come to be a gratifying surprise), yet if nothing else, knowing that those ramifications will continue to shift and alter the once-stale trajectory of the programme is more than enough to keep us ecstatic to see what's next. Prior to Episodes 16 and 17, the possibility of Agents gaining a second season re-commission seemed fairly faint, but after the masterful pair of episodes which have premièred in the UK over the last fortnight, we'll eat our Stan Lee-signed hats if the show isn't still on air come this Autumn...
For all the latest news, previews and reviews of upcoming instalments of both Arrow and Marvel's Agents of S.H.I.E.L.D., keep it On-Screen in the weeks ahead!